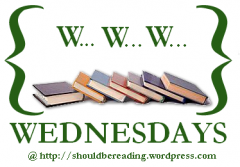 To play along, just answer the following three (3) questions…
What are you currently reading?
What did you recently finish reading?
What do you think you'll read next?
Wow, I haven't played along with WWW Wednesdays in a long time.
I am currently reading several books. The main one is [amazon_link id="0451169522″ target="_blank" ]Misery[/amazon_link] by Stephen King. I have seen the movie, and I thought Kathy Bates was brilliant in the role of Annie Wilkes. I had never read the book, and I admit that reading King's memoir [amazon_link id="1439156816″ target="_blank" ]On Writing[/amazon_link] is what prompted me to finally pick it up. I am enjoying it a hell of a lot. I'm also still dipping into [amazon_link id="1439170916″ target="_blank" ]The Emperor of All Maladies[/amazon_link] by Siddhartha Mukherjee. I can totally see why it won the Pulitzer for nonfiction. It's not just an interesting subject; it's well written. I tried reading [amazon_link id="1613821530″ target="_blank" ]Anna Karenina[/amazon_link] on DailyLit, but I finally had to admit I wasn't into it when I had a huge backlog of unread book installments and no desire to even open them. I have to just say it: I'm not into the Russians. I have tried them and tried them, several times, and I have given them a fair shake. I think it's time to give up trying to be cultured. I picked up [amazon_link id="1466210303″ target="_blank" ]Madame Bovary[/amazon_link] instead, and while it hasn't grabbed me yet, I will give it more than two installments. I guess I'm also still reading [amazon_link id="074348486X" target="_blank" ]As You Like It[/amazon_link] when I think about it.
I recently finished a re-read of [amazon_link id="9626343613″ target="_blank" ]Sense and Sensibility[/amazon_link] read by Juliet Stevenson. I highly recommend her Naxos audio book readings of Austen's works. I think the only one she didn't record for them was [amazon_link id="9626343567″ target="_blank" ]Pride and Prejudice[/amazon_link]. Stevenson is a brilliant reader. I also recently finished [amazon_link id="0142411841″ target="_blank" ]Twisted[/amazon_link] by Laurie Halse Anderson, who consistently writes amazing books for teens that are straight out of the Judy Blume School of writing about what young people are really like and what they care about. I discovered that Laurie Halse Anderson creates playlists for her books, so given that I love creating Spotify lists, I went ahead and put her playlists in Spotify (at least all the songs that were available). Here is her playlist for Twisted. Naturally, you need to have Spotify to listen. Here are my reviews for Sense and Sensibility and Twisted.
The next book I read will be either Sherman Alexie's [amazon_link id="0316068209″ target="_blank" ]The Absolutely True Diary of a Part-Time Indian[/amazon_link], John Green's [amazon_link id="0142402516″ target="_blank" ]Looking for Alaska[/amazon_link], or Laurie Halse Anderson's [amazon_link id="0142400017″ target="_blank" ]Catalyst[/amazon_link]. I am in a YA mood right now (probably because I just went to NCTE). I also really, really want to read [amazon_link id="0062024027″ target="_blank" ]Divergent[/amazon_link] by Veronica Roth soon, but I don't have it, and neither does my school library. The Absolutely True Diary of a Part-Time Indian was recently challenged here in my home state of Georgia. My daughter, however, says I should start with Looking for Alaska, but that I'd better be prepared to cry. I think I will probably read that one first just because she wants me to and so we can talk about it.
So, what are you reading?