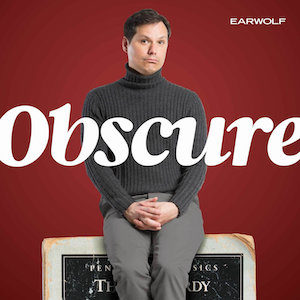 The last episode of Michael Ian Black's podcast Obscure (the premise of which is that Michael Ian Black reads Thomas Hardy's novel Jude the Obscure and comments on it as he goes) dropped a few weeks ago, but graduate school hasn't left me with a lot of time. Now that I'm on break, both from graduate school and work, I have been able to catch up.
I will be honest. I read Tess of the D'Urbervilles a couple of years ago and found it so bleak that I wasn't sure about listening to Michael Ian Black read Jude the Obscure. Hardy can be really bleak. In that respect, Jude the Obscure doesn't disappoint. However, the communal experience of listening to this book and hearing Michael Ian Black's reactions to what he was reading transcended the actual text itself and made for one of the most enjoyable "reads" of the year for me.
For those not familiar with the story, the protagonist Jude is born in obscurity to a family with a history of bad luck. He is raised by his aunt, who makes it clear he is nothing but a burden. He dreams of being a scholar one day, and he shows an aptitude for learning. However, he is living in Victorian England and finds it impossible to rise in the world. He winds up married young to a grasping, scheming woman, finds a brief period of happiness and love with his cousin Sue, and suffers devastating loss. The plot is typical Hardy. However, there is something moving and transcendent about Jude's experience. Jude might be any of us. Jude is any one of us. Michael Ian Black's reading brought home that point in a way I'm not sure I would have appreciated if I hadn't read the book in this way.
One thing I loved about Michael Ian Black's reading is that it started with curiosity, and he remained curious throughout the reading. He frequently brought on guests who might help illuminate issues raised by the book, and when he didn't know a word or a reference, he looked it up. I felt like I went on a journey with him as a fellow reader. Michael Ian Black doesn't position himself as an expert. He makes it clear he is reading and reacting to the text based on his own experiences and understandings, and that is probably what is best about Obscure. I found listening to the podcast by turns laugh-out-loud funny and poignantly sad, particularly towards the end as Michael Ian Black connects his reading of the book to losses of his own. His interpretation always struck me as spot-on and very honest.
The podcast is worth your time, and if you fall behind, it's great for bingeing. I really, really hope that Michael Ian Black reads other books like this.
Edited to add: The novel underscored for me again, as if I need more evidence, that literature reflects the human condition. We can find ourselves in it if we take a look, and Michael Ian Black's reading of this classic novel definitely allowed for that kind of reflection. My friend Robin writes so much more eloquently than I can about literature's power to show us ourselves.
Rating: