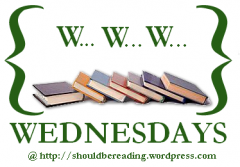 To play along, just answer the following three (3) questions…
• What are you currently reading?
• What did you recently finish reading?
• What do you think you'll read next?
I'm currently reading a book my mother passed on to me called [amazon_link id="B000BLNPIW" target="_blank" ]More Than You Know[/amazon_link] by Beth Gutcheon. It was published over a decade ago, and I think she found it at a library or paperback book sale. I'm over 1/3 the way in, and it's really good so far: New England setting (love those), ghosts, and an ax murder that has a familiar Lizzie Borden taint. I hadn't actually heard of this book or seen it mentioned on book blogs. Let's bring it back! I'll save more for my review.
This week, I finished reading [amazon_link id="055338483X" target="_blank" ]Garden Spells[/amazon_link] (review) and [amazon_link id="0553384848″ target="_blank" ]The Sugar Queen[/amazon_link] (review) by Sarah Addison Allen since my last WWW Wednesdays update. Both of them were very enjoyable, but I liked Garden Spells better. I will probably read the rest of Allen's books. It's fun to find a new author you like.
The next book I read will probably be [amazon_link id="B001P3OLEM" target="_blank" ]Burning Bright[/amazon_link] by Tracy Chevalier. She's another author I enjoy, and this is one of only two books of hers that I haven't read, the other being [amazon_link id="B000234N76″ target="_blank" ]Falling Angels[/amazon_link]. Also, how did I not know that Tracy Chevalier was on Twitter? Followed. If I don't read Burning Bright next, I'm not sure what I'll read, but I have a huge TBR pile, and I daresay if you are at all interested, you'll find out what book I pick next soon enough. 😉