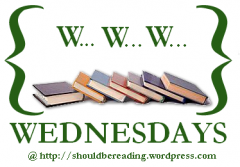 To play along, just answer the following three (3) questions…
What are you currently reading?
What did you recently finish reading?
What do you think you'll read next?
I am currently reading Susanna Kearsley's [amazon_link id="1402241372″ target="_blank" ]The Winter Sea[/amazon_link]. I am close to half way finished with it. Incidentally, there is a really good deal on the [amazon_link id="B004DCB32K" target="_blank" ]Kindle version[/amazon_link] of this book right now. I was glad I happened upon that sale price because I had wanted to read this book for a while, but I wasn't sure when I'd be able to get it at its full price (either on Kindle or paperback).
I recently finished reading [amazon_link id="B000BLNPIW" target="_blank" ]More Than You Know[/amazon_link] by Beth Gutcheon, which was OK, but did not light my fire (review).
I am not sure what I am going to read next. Last week, I said it would be Tracy Chevalier's [amazon_link id="0452289076″ target="_blank" ]Burning Bright[/amazon_link], but that was before the Kindle book deal I snagged on The Winter Sea. I may still go ahead and read it next, or I may read [amazon_link id="0312304358″ target="_blank" ]Moloka'i[/amazon_link] by Alan Brennert, [amazon_link id="0152053107″ target="_blank" ]A Northern Light[/amazon_link] by Jennifer Donnelly,  [amazon_link id="0060791586″ target="_blank" ]The Widow's War[/amazon_link] by Sally Gunning, or [amazon_link id="0679781587″ target="_blank" ]Memoirs of a Geisha[/amazon_link] by Arther Golden, all of which I received in the mail this week via PaperBackSwap. Lots of good books to choose from! But do you know what book I'm dying to read? [amazon_link id="0312558171″ target="_blank" ]The Ballad of Tom Dooley[/amazon_link] by Sharyn McCrumb. Alas, it doesn't come out until around the end of August. She had such a smart idea, creating novels out of those old Appalachian murder ballads. (I love murder ballads, by the way. I made a murder ballad playlist on Spotify, which you can listen to if you have Spotify.)