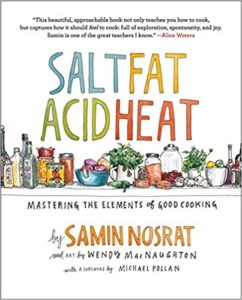 Salt, Fat, Acid, Heat: Mastering the Elements of Good Cooking
by
Samin Nosrat
,
Wendy MacNaughton
Published by
Simon & Schuster
on April 25th 2017
Goodreads

A visionary new master class in cooking that distills decades of professional experience into just four simple elements, from the woman declared "America's next great cooking teacher" by Alice Waters.

In the tradition of The Joy of Cooking and How to Cook Everything comes Salt, Fat, Acid, Heat, an ambitious new approach to cooking by a major new culinary voice. Chef and writer Samin Nosrat has taught everyone from professional chefs to middle school kids to author Michael Pollan to cook using her revolutionary, yet simple, philosophy. Master the use of just four elements—Salt, which enhances flavor; Fat, which delivers flavor and generates texture; Acid, which balances flavor; and Heat, which ultimately determines the texture of food—and anything you cook will be delicious. By explaining the hows and whys of good cooking, Salt, Fat, Acid, Heat will teach and inspire a new generation of cooks how to confidently make better decisions in the kitchen and cook delicious meals with any ingredients, anywhere, at any time.

Echoing Samin's own journey from culinary novice to award-winning chef, Salt, Fat Acid, Heat immediately bridges the gap between home and professional kitchens. With charming narrative, illustrated walkthroughs, and a lighthearted approach to kitchen science, Samin demystifies the four elements of good cooking for everyone. Refer to the canon of 100 essential recipes—and dozens of variations—to put the lessons into practice and make bright, balanced vinaigrettes, perfectly caramelized roast vegetables, tender braised meats, and light, flaky pastry doughs.

Featuring 150 illustrations and infographics that reveal an atlas to the world of flavor by renowned illustrator Wendy MacNaughton, Salt, Fat, Acid, Heat will be your compass in the kitchen. Destined to be a classic, it just might be the last cookbook you'll ever need.

With a foreword by Michael Pollan.
I picked up this cookbook after hearing about it on NPR during a segment with Corby Kummer about his Atlantic article featuring the best cookbooks of 2017. It might be one of the few cookbooks that I read cover-to-cover because even more than recipes suggesting what to cook, Samin Nosrat's book teaches you how to cook. Her contention is that if you learn how to work with salt, fat, acid, and heat, you can cook anything. I haven't tried many of the recipes the book yet, but I have tried her techniques, and honestly, I only wish I'd had this book many years ago. Where has this book been all my life?
One caveat for people who buy cookbooks for pretty pictures of food. This book doesn't have any photographs—just Wendy McNaughton's artwork. When asked why no photographs, author Samin Nosrat said:
This book and this message is about teaching you to be loose in the kitchen. And I didn't want you to feel bound to my one image of a perfect dish in a perfect moment and feel like that was what you had to make. So I didn't want you to feel like you had to live up to my version of perfection.
I have to admit that the perfect photos on food blogs and cookbooks can sometimes be intimidating. Even though what I make might taste good, it rarely matches the photographs for aesthetic appeal, so Nosrat's reasoning makes sense to me.
This book is perfect for beginning cooks or even more experienced cooks who want to expand their understanding of how cooking works. It's also great for cooks who need a bit more confidence.
My biggest takeaway from the book is to taste as I'm cooking. I know that seems pretty obvious, but tasting as you cook is the best way to know if you are balancing flavors properly. Tiny little case in point: I made macaroni and cheese for dinner tonight (the real stuff, not the box kind). I thought maybe my macaroni wasn't done, but I wasn't sure, so I scooped a noodle out of the pot and tasted it. Nope, done. Just a small example. I've also tried her tips for macerating shallots for salad and used her technique for dicing onions. I had my own technique for dicing onions, but hers works better. These sorts of techniques are hard to come by in most cookbooks, which by and large assume a level of knowledge that not all cooks have.
Nosrat also has a likable and charming voice that most cookbooks lack. For example, here is part of her instruction for fixing a broken mayonnaise emulsion:
Using your oily, eggy whisk, start whisking the hot water maniacally, until it starts to foam. Then, treating the broken mayonnaise as if it were oil, add it drop by drop, continuing to whisk with the urgency of a swimmer escaping a shark. (84)
This is one cookbook I would recommend to just about anyone as I think there is something for everyone in its pages.