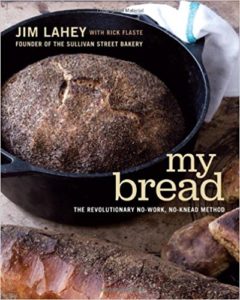 My Bread: The Revolutionary No-Work, No-Knead Method
by
Jim Lahey
,
Rick Flaste
on October 5th 2009
Genres:
Cooking
Pages:
224
Format:
Hardcover
Buy on Amazon
Goodreads

When he wrote about Jim Lahey's bread in the New York Times, Mark Bittman's excitement was palpable: "The loaf is incredible, a fine-bakery quality, European-style boule that is produced more easily than by any other technique I've used, and it will blow your mind." Here, thanks to Jim Lahey, New York's premier baker, is a way to make bread at home that doesn't rely on a fancy bread machine or complicated kneading techniques. Witnessing the excitement that Bittman's initial piece unleashed worldwide among bakers experienced and beginner alike, Jim grew convinced that home cooks were eager for a no-fuss way to make bread, and so now, in this eagerly anticipated collection of recipes, Jim shares his one-of-a-kind method for baking rustic, deep-flavored bread in your own oven.

The secret to Jim Lahey's bread is slow-rise fermentation. As Jim shows in My Bread, with step-by-step instructions followed by step-by-step pictures, the amount of labor you put in amounts to 5 minutes: mix water, flour, yeast, and salt, and then let time work its magic—no kneading necessary. Wait 12 to 18 hours for the bread to rise, developing structure and flavor; then, after another short rise, briefly bake the bread in a covered cast-iron pot.

The process couldn't be more simple, or the results more inspiring. My Bread devotes chapters to Jim's variations on the basic loaf, including an olive loaf, pecorino cheese bread, pancetta rolls, the classic Italian baguette (stirato), and the stunning bread stick studded with tomatoes, olives, or garlic (stecca). He gets even more creative with loaves like Peanut Butter and Jelly Bread, others that use juice instead of water, and his Irish Brown Bread, which calls for Guinness stout. For any leftover loaves, Jim includes what to do with old bread (try bread soup or a chocolate torte) and how to make truly special sandwiches.

And no book by Jim Lahey would be complete without his Sullivan Street Bakery signature, pizza Bianca—light, crispy flatbread with olive oil and rosemary that Jim has made even better than that of Italy's finest bakeries. Other pizza recipes, like a pomodoro (tomato), only require you to spread the risen dough across a baking sheet and add toppings before baking.

Here—finally—Jim Lahey gives us a cookbook that enables us to fit quality bread into our lives at home.
I ordered Jim Lahey's first book My Bread after finishing his third, The Sullivan Street Bakery Cookbook (his second is My Pizza, which I guess I'll need to read!). Lahey's recipe for a perfect no-knead crusty loaf of bread apparently took the world by storm some time back, but I missed it. I probably wouldn't have picked this book up had The Sullivan Street Bakery Cookbook not crossed my radar. I have long been too intimidated to make bread, primarily because I saw it as a fussy food: you had to knead it just so, but don't handle it too much. You had to set it out to rise. I love bread, but it seemed like a lot of hassle. In actuality, the biggest hassle is the amount of time. Jim Lahey's bread needs to rise pretty much overnight, so it's a good idea to mix the dough before you go to bed on a weekend. The next day, you can shape the dough and allow it to rise again, and you will have a nice loaf of bread for weekend supper.
Unlike The Sullivan Street Bakery Cookbook, the recipes in this book call for yeast rather than the stiff sourdough starter Jim Lahey calls biga. There is not a huge difference in flavor between the bread made with yeast versus the bread made with biga, but I think I actually prefer the bread made with biga. It seemed to me like the "holes" in the loaf were bigger. However, following the baking directions as stated in The Sullivan Street Bakery Cookbook yielded a very dark loaf for me with the crust almost burned. Of course, I didn't use parchment for that loaf as I did the yeast loaf I made using Lahey's recipe in My Bread, and I think perhaps the fact that I used oil may have contributed to the issue I had. Still, it might be worth following the baking directions for the yeast loaf next time I try to bake the bread with biga.
Here is the loaf I made today using Lahey's recipe for basic no-knead bread on pp. 50-52 of the book: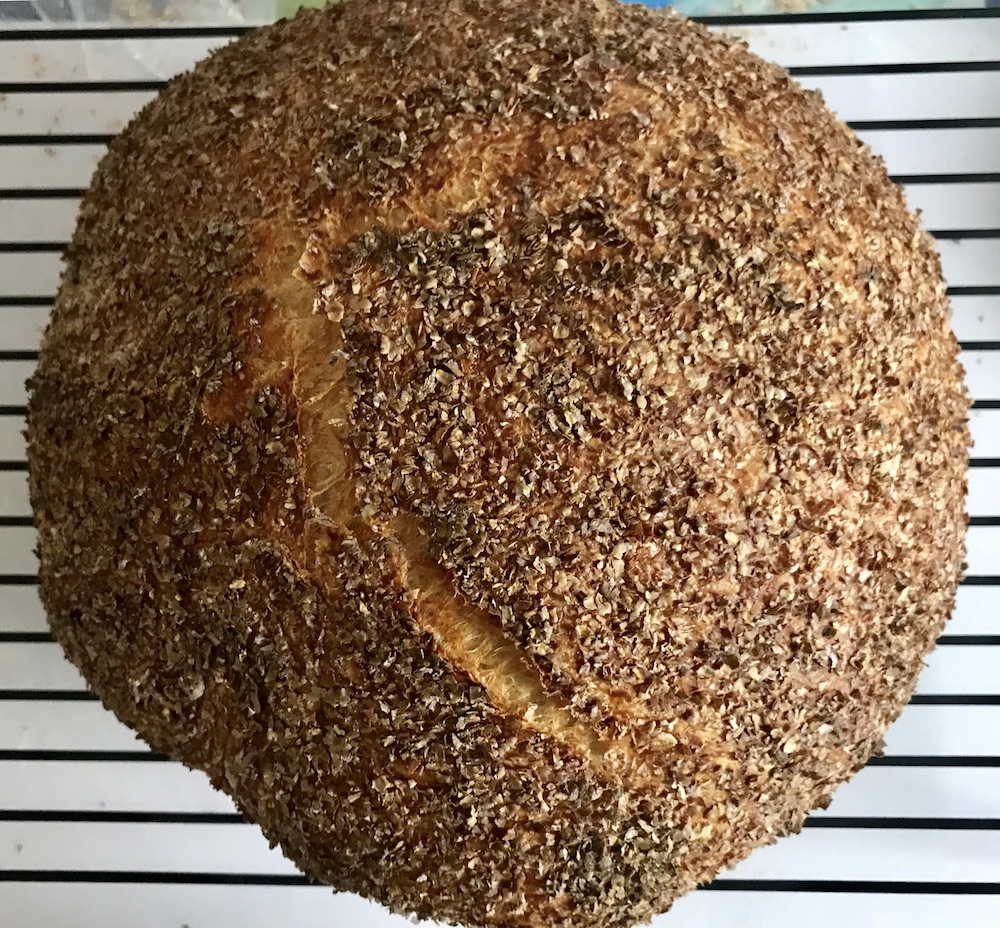 The crust turned out perfectly, and I think the parchment paper was the trick there. I noticed that I could hear it crackling as it cooled, but it didn't "sing" like the biga loaf.
Both loaves are delicious. I think the idea of using a natural yeast I created has some appeal. Lahey talks about trying to do things the old-fashioned way, such as baking in fire ovens, and I understand that feeling. It is a way of connecting to the past, to the work our ancestors did with their hands. I felt the same way making my own soap.
I haven't tried the other recipes, but the book is an entertaining read, and the basic bread recipe is one I can see returning to over and over again.
I hadn't planned on reading quite so many cookbooks for this challenge. I envisioned reading more food histories, which also interest me. Still, I think it says something about the entertaining readability of the cookbooks I've read that I was able to read them cover to cover and see the personality of the author shine through.
I also discovered this book was a Gourmet Cookbook Club selection, which had me Googling said book club. It looks like after Epicurious acquired Gourmet, they scrubbed all the book club material from the site, but their list is still out there.