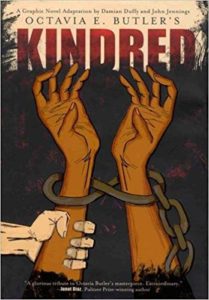 Kindred: A Graphic Novel Adaptation
by
Damian Duffy
,
Octavia E. Butler
,
John Jennings
Published by
Harry N. Abrams
on January 10, 2017
Genres:
Fantasy/Science Fiction
Pages:
240
Format:
Hardcover
Buy on Amazon
Goodreads

I lost an arm on my last trip home.

Home is a new house with a loving husband in 1970s California that suddenly transformed into the frightening world of the antebellum South.

Dana, a young black writer, can't explain how she is transported across time and space to a plantation in Maryland. But she does quickly understand why: to deal with the troubles of Rufus, a conflicted white slaveholder—and her progenitor.

Her survival, her very existence, depends on it.

This searing graphic-novel adaptation of Octavia E. Butler's science fiction classic is a powerfully moving, unflinching look at the violent disturbing effects of slavery on the people it chained together, both black and white—and made kindred in the deepest sense of the word.
I had been reading Kindred on my Kindle and not making much progress. While I thought the plot was engrossing and liked the characters, there is something I can't put my finger on that was preventing me from finishing the book. I set it aside once. Then I set it aside again. I really wanted to read it. Finally, when I found out this graphic novel edition was out, I decided this would be a way I could read it.
Octavia Butler is the queen of science fiction. This book is probably one of the most accurate descriptions of antebellum slavery I've read in fiction. Butler says that she actually toned it down so it would sell, however. She not only describes the brutality of slavery but also delves into the ways in which enslaved people created a family and subverted slave owners when it was possible. Mere survival was a triumph. She also unpacks the complicated relationships between enslaved people and slave owners. Rufus, for example, could easily be a one-note villain, but in Butler's hands, he's a fully realized and complicated person who rapes a woman because she is African-American and he can, but who also generates reader sympathy as an abused and uneducated child and a product of the time and place in which he lived.
Dana is a strong protagonist, and most of Butler's characters are round and interesting, resisting stereotype and easy reduction. Kindred was published in 1979 and is ahead of its time in many ways. I've seen many more recent books that don't deal with the themes of slavery in racism with the honesty and realism that Kindred does, in spite of its science fiction elements. One of the more interesting ideas Butler grapples with is the complex relationships forged in slavery between people who identify as white and people who identify as black today.