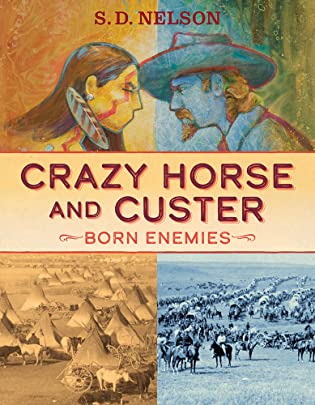 Crazy Horse and Custer: Born Enemies
by
S.D. Nelson
Published by
Harry N. Abrams
on November 9, 2021
Genres:
Biography
,
Childrens
,
History
,
Nonfiction
,
Young Adult
Pages:
144
Format:
Hardcover
Source:
Library
Buy on Amazon
Goodreads

With photographs and stunning illustrations from acclaimed author-artist S.D. Nelson, this thrilling double biography juxtaposes the lives of two enemies whose conflict changed American history: Crazy Horse and George Custer.

In 1876, Lakota chief Crazy Horse helped lead his people's resistance against the white man's invasion of the northern Great Plains. One of the leaders of the US military forces was Army Lt. Col. George Armstrong Custer. The men had long been enemies. At the height of the war, when tribalism had reached its peak, they crossed paths for the last time.

In this action-packed double biography, S. D. Nelson draws fascinating parallels between Crazy Horse and Custer, whose lives were intertwined. These warriors were alike in many ways, yet they often collided in deadly rivalry. Witness reports and reflections by their peers and enemies accompany side-by-side storytelling that offers very different perspectives on the same historical events. The two men's opposing destinies culminated in the infamous Battle of the Greasy Grass, as the Lakota called it, or the Battle of the Little Bighorn, as it was called by the Euro-Americans.

In Crazy Horse and Custer, Nelson's gripping narrative and signature illustration style based on Plains Indians ledger art, along with a mix of period photographs and paintings, shines light on two men whose conflict forever changed Lakota and US history. The book includes an author's note, timeline, endnotes, and bibliography.
This book approaches the biographies of Crazy Horse and George Armstrong Custer by drawing parallels between their lives. It is striking that the two men who would face each other at the Battle of Little Bighorn were born a year apart and died a year apart. I appreciated that Nelson did not engage in the hagiography of either man but instead demonstrated their humanity, flaws and all. Truthfully, though, it's hard for Custer to come across well to a modern reader, revered as he might have been at the time of his death. The author even points out that in our current time, Crazy Horse is largely admired while Custer is reviled.
I first became interested in this history when I saw the film Little Big Man as a middle schooler. It's a great film and one of the first (if not the very first) revisionist Western. Though the main character is a White man who is kidnapped by Cheyenne as a child and assimilated into the tribe, some (though admittedly not all) of the Cheyenne characters are played by Native actors, and indigenous people are shown in a more sympathetic light than Hollywood had traditionally depicted them. After seeing this film, I started to read about what happened with Custer, who is a character in the movie.
This book seems to be pitched to late middle-grade readers. I admit I learned a lot I didn't know about both men. I had no idea Custer and his father were pro-slavery, for example. I knew next to nothing of Crazy Horse's biography. The book is organized into short chapters that alternate between the biographies of both men. The author explains that he feels uniquely qualified to tell this story as the descendant of a Lakota woman who married a White man who had served under Custer in the Army until being honorably discharged before the Battle of Little Bighorn.
Though the intended audience for this book is probably middle schoolers, anyone with a passing interest in the history of the so-called Indian Wars might enjoy reading this book. I appreciated the author's artwork as part of the storytelling as well. Crazy Horse and George Armstrong Custer both come alive in the pages of this book.