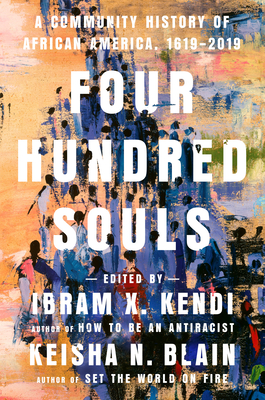 Four Hundred Souls: A Community History of African America, 1619-2019
by
Ibram X. Kendi
,
Keisha N. Blain
Published by
One World
on February 2, 2021
Genres:
History
Pages:
528
Format:
Audio
,
Audiobook
Buy on Amazon
Goodreads

An epoch-defining history of African America, the first to appear in a generation, Four Hundred Souls is a chronological account of four hundred years of Black America as told by ninety of America's leading Black writers.

Curated by Ibram X. Kendi, author of the number one bestseller How To Be an Antiracist, and fellow historian Keisha N. Blain, Four Hundred Souls begins with the arrival of twenty enslaved Ndongo people on the shores of the British colony in mainland America in 1619, the year before the arrival of the Mayflower.

In eighty chronological chapters, the book charts the tragic and triumphant four-hundred-year history of Black American experience in a choral work of exceptional power and beauty.

Contributors include some of the best-known scholars, writers, historians, journalists, lawyers, poets and activists of contemporary America who together bring to vivid life countless new facets to the drama of slavery and resistance, segregation and survival, migration and self-discovery, cultural oppression and world-changing artistic, literary and musical creativity. In these pages are dozens of extraordinary lives and personalities, rescued from the archives and restored to their rightful place in America's narrative, as well as the ghosts of millions more.

Four Hundred Souls is an essential work of story-telling and reclamation that redefines America and changes our notion of how history is written.
In spite of what the information above indicates, I actually listened to the audiobook, and let me tell you, it's an incredible audiobook. This is a book you need in multiple formats. I am going to purchase the hardcover. I almost don't know where to start except to say that I think people should read this book. You'll learn a lot. Some of it might surprise you. I consider myself fairly well versed in history, and there was much I didn't know. The structure of the book is interesting. Each chapter covers a five-year period in Black American history. Some chapters are written as straight nonfiction while others are poems. I liked seeing the various genres. I recognized and have read many of the authors whose work is found here.
I wondered a bit about the recording of the audiobook and came to the conclusion that the various narrators may have recorded their chapters using home equipment. I noticed some variable audio quality. None of that is to say there was any poor quality audio, but some sounded more professionally produced than others. It would make sense if narrators couldn't travel to record due to the pandemic. If you have a chance to listen to the audio, I highly recommend it, but you'll want the paper book, too.
In the novel Homegoing, Yaa Gyasi's character Yaw tells his students,
"This is the problem of history. We cannot know that which we were not there to see and hear and experience for ourselves. We must rely upon the words of others. Those who were there in the olden days, they told stories to the children so that the children would know, so that the children could tell stories to their children. And so on, and so on… We believe the one who has power. He is the one who gets to write the story. So when you study history, you must ask yourself, Whose story am I missing? Whose voice was suppressed so that this voice could come forth? Once you have figured that out, you must find that story too. From there you get a clearer, yet still imperfect, picture."
The novel Homegoing was a way to capture the stories that are missing. This book is, too. It belongs on every shelf.