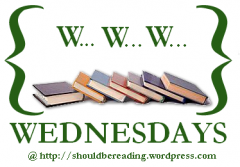 To play along, just answer the following three (3) questions…
• What are you currently reading?
• What did you recently finish reading?
• What do you think you'll read next?
I am currently reading [amazon_link id="0670022527″ target="_blank" ]One of Our Thursdays Is Missing[/amazon_link] by Jasper Fforde, The Man in the Iron Mask by Alexandre Dumas, and The Story of Britain: From the Romans to the Present: A Narrative History by Rebecca Fraser (I have been reading it since January, but in my defense, it is over 800 pages long).
I recently finished [amazon_link id="0670021040″ target="_blank" ]Caleb's Crossing[/amazon_link] by Geraldine Brooks (my review).
What on earth am I going to read next? I'm not really sure. I need to think about it. Maybe [amazon_link id="0743482832″ target="_blank" ]The Tempest[/amazon_link] so I can read [amazon_link id="B0048EL84Q" target="_blank" ]The Dream of Perpetual Motion[/amazon_link]. It has been a really long time since I read The Tempest. I won't try to pick it up until school lets out, however.