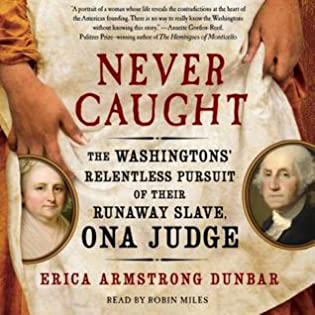 Never Caught: The Washingtons' Relentless Pursuit of Their Runaway Slave, Ona Judge
by
Erica Armstrong Dunbar
Published by
Simon Schuster Audio
on February 7, 2017
Genres:
Nonfiction
Format:
Audio
,
Audiobook
Source:
Library
Buy on Amazon
Goodreads

A startling and eye-opening look into America s First Family, Never Caught is the powerful narrative of Ona Judge, George and Martha Washington s runaway slave who risked it all to escape the nation's capital and reach freedom.

When George Washington was elected president, he reluctantly left behind his beloved Mount Vernon to serve in Philadelphia, the temporary seat of the nation's capital. In setting up his household he took Tobias Lear, his celebrated secretary, and eight slaves, including Ona Judge, about which little has been written. As he grew accustomed to Northern ways, there was one change he couldn't get his arms around: Pennsylvania law required enslaved people be set free after six months of residency in the state. Rather than comply, Washington decided to circumvent the law. Every six months he sent the slaves back down south just as the clock was about to expire. Though Ona Judge lived a life of relative comfort, the few pleasantries she was afforded were nothing compared to freedom, a glimpse of which she encountered first-hand in Philadelphia. So, when the opportunity presented itself one cold spring day in Philadelphia, Judge left everything she knew to escape to New England. Yet freedom would not come without its costs.

At just twenty-two-years-old, Ona became the subject of an intense manhunt led by George Washington, who used his political and personal contacts to recapture his property. Impeccably researched, historian Erica Armstrong Dunbar weaves a powerful tale and offers fascinating new scholarship on how one young woman risked it all to gain freedom from the famous founding father.
The subject matter of this book is utterly fascinating; however, because so little is known about Ona Judge, the author, unfortunately, has to engage in a lot of speculation. To be sure, it is well-researched speculation and certainly rings true. I am grateful for Dunbar's attention to detail and meticulous research. I was able to round out my understanding of quite a few historical issues on the topic of slavery I had not understood before. For example, Dunbar explains why Washington was unable to free people enslaved by Martha Washington's first husband and why he chose not to free people he enslaved. I already felt the entire practice was reprehensible, but reading this book only underscored the inhumanity of slavery. It boggles the mind that people engaged in this practice and felt like it was acceptable, never mind the fact that many of them thought they were doing enslaved people a favor.
In addition to Ona Judge, I learned about Hercules Posey, Washington's chef who also escaped to freedom. If I had one suggestion to round out this book, it might have been to write about several people enslaved by the Washingtons. It might have helped the author avoid the speculation she had to use. I think Ona Judge is a fascinating person, but we just don't know enough about her to fill a book. I was interested to see a children's version of this book has been printed. It's entirely possible that a children's version would have been just perfect—I think there is enough known about Ona Judge to fill a children's or even YA book.
So why only 3.5 stars? Well, I think Dunbar missed an opportunity. I think Ona Judge's story would have made excellent historical fiction. If Dunbar had opted for historical fiction, she wouldn't have had to use the speculative voice that overwhelms the story. She also might have been able to include more details. As it is, I think Dunbar was constrained by the sparse details available about Judge's life.
I would love to see more books like this one, but this story serves as a stark reminder of the many lives that are not recorded for posterity. Their lives mattered then, and they matter now.