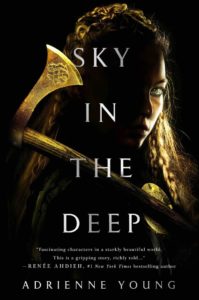 Sky in the Deep
by
Adrienne Young
Published by
Wednesday Books
on April 24, 2018
Genres:
Fantasy/Science Fiction
,
Young Adult
Pages:
352
Format:
Hardcover
Buy on Amazon
Goodreads

OND ELDR. BREATHE FIRE.

Raised to be a warrior, seventeen-year-old Eelyn fights alongside her Aska clansmen in an ancient rivalry against the Riki clan. Her life is brutal but simple: fight and survive. Until the day she sees the impossible on the battlefield—her brother, fighting with the enemy—the brother she watched die five years ago.

Faced with her brother's betrayal, she must survive the winter in the mountains with the Riki, in a village where every neighbor is an enemy, every battle scar possibly one she delivered. But when the Riki village is raided by a ruthless clan thought to be a legend, Eelyn is even more desperate to get back to her beloved family.

She is given no choice but to trust Fiske, her brother's friend, who sees her as a threat. They must do the impossible: unite the clans to fight together, or risk being slaughtered one by one. Driven by a love for her clan and her growing love for Fiske, Eelyn must confront her own definition of loyalty and family while daring to put her faith in the people she's spent her life hating.
I received a signed first edition of this book in my Owl Crate box subscription. The cover and premise of the book intrigued me. Sky in the Deep is unusual in that its Viking-inspired setting and warrior heroine aren't often found in YA fantasy. The book's trailer does a good job capturing the setting, the real star of the novel:
The egalitarian society Adrienne Young describes in the book is one of its more interesting aspects. Women and men both can be warriors, healers, spiritual leaders. Eelyn, the novel's heroine, is a warrior, and based on descriptions of her prowess, a pretty good one. Despite a lot of wishful thinking, I believe the jury is still out on the extent to which shieldmaidens were a real thing in the Viking era, though a quick glance at Norse myth supports the idea at least in part. I liked the Riki characters Eelyn winds up living with, but one can't help cry foul over the Stockholm syndrome. I'm not sure how healthy it is for YA books to continue with the trope of the woman who falls in love with someone who captures and in this case, abuses the protagonist—he has his blacksmith fit her with a slave's collar. Fiske never emerges as very interesting to me anyway; though he's written in that swoony way you see in a lot of YA fiction, it's not overdone (to the author's credit). I loved that the author didn't try to make the reader fall in love with Fiske.
In any case, the book is a quick, fun read. Be warned: it's pretty violent. Young doesn't flinch from describing this warrior culture in full detail. Many of the names—both people and places—come from Old Norse and are still in use today. In searching out some of the names in the book, I stumbled on the author's Pinterest board for inspiration. Of course, now I'm looking for it to link it, I can't find it again. I halfway wonder if she's made it private in the days since I found it. I am not sure why, but discovering that Pinterest board of inspirational images utterly charmed me.
This book is different from typical YA in many ways, and it's easy to keep turning the pages, and though the plot unwinds in a fairly predictable fashion, the ride isn't any less fun. I probably would have loved it had I read it as a teen, and given that is who the audience is, it's worth giving it a try if you're in that demographic. If you're not, you still might enjoy it.
Though it might be more accurate to describe this book as Viking-inspired fantasy, I'm still going to count it as historical fiction also because I think it fits that genre, even if the story is not strictly based on true historical events. For the Literary Voyage Challenge, I'm settling on Norway as a setting.