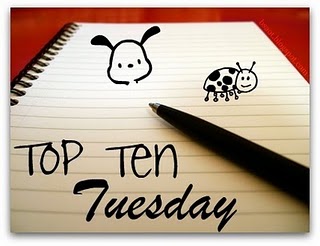 This week's Top Ten Tuesday topic is the top ten books that would make great book club picks. Some of these books I have actually read with a book club; others I haven't, but I think they might make for good discussion.
[amazon_link id="0385341008″ target="_blank" ]The Guernsey Literary and Potato Peel Pie Society[/amazon_link], Annie Barrows and Mary Ann Shaffer: It's a book about book clubs! What could be better to read with a book club?
[amazon_link id="0312304358″ target="_blank" ]Moloka'i[/amazon_link], Alan Brennert: This might be because I just chose it for my book club, but I think it would be great for discussion, especially because it's a good story, but it has some flaws.
[amazon_link id="0345521307″ target="_blank" ]The Paris Wife[/amazon_link], Paula McLain: I think this one would be great for literary book clubs who want to learn more about Hemingway and his circle.
[amazon_link id="1451648502″ target="_blank" ]The Kitchen Daughter[/amazon_link], Jael McHenry: It might be fun to bring the dishes described in the book to the meeting. I also think discussing adult Asperger's would make for an interesting evening.
[amazon_link id="1594484465″ target="_blank" ]The Little Stranger[/amazon_link], Sarah Waters: I picked this mostly because I would like to talk about the ending and see what everyone else thinks happened at the end.
[amazon_link id="0399157913″ target="_blank" ]The Help[/amazon_link], Kathryn Stockett: I liked this one a lot and see it being a good book to talk about when you're done with it. I could even see a good discussion about whether it's another in the long line of "white people solve racism" books/movies.
[amazon_link id="1613821395″ target="_blank" ]The Woman in White[/amazon_link], Wilkie Collins: Marian and Count Fosco are great characters. So was Frederick Fairlie. He's hysterical, in fact. I think it might be interesting to talk about how Collins popularized some of those tropes we consider clichés.
[amazon_link id="0142001805″ target="_blank" ]The Eyre Affair[/amazon_link], Jasper Fforde: There is so much bookish fun in this one. I think book nerds would really like reading and talking about it.
[amazon_link id="B005K5XQRY" target="_blank" ]The Lace Reader[/amazon_link], Brunonia Barry: I am not sure it would appeal to everyone in the group, but it has a classic unreliable narrator, and those always make for juicy discussion. Plus you could try to brew up some "Difficul-tea" and try out lace reading (if you can figure it out).
[amazon_link id="0385338015″ target="_blank" ]Madame Bovary's Ovaries[/amazon_link], David P. Barash and Nanelle R. Barash: The premise of this book is that you can explain the behavior of some characters in great literature through evolutionary psychology. It's an interesting read. It's sure to generate some discussion; I can't imagine you'd get a whole group to agree on whether or not the authors are right. It serves the dual purpose of making you interested in the literature they discuss, too. The Goodreads reviews on it are all over the place.
Honorable mentions: [amazon_link id="0812979303″ target="_blank" ]Reading Lolita in Tehran[/amazon_link], Azar Nafisi; [amazon_link id="0679751521″ target="_blank" ]Midnight in the Garden of Good and Evil[/amazon_link], John Berendt (only left out of top ten because everyone's surely read it by now); and [amazon_link id="014029628X" target="_blank" ]Girl in Hyacinth Blue[/amazon_link], Susan Vreeland.