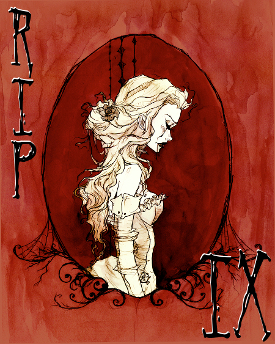 It's time again for my favorite reading challenge, the R. I. P. Challenge. It's hard to believe this is the ninth year. I don't think I participated until the third one. I absolutely love this time of year for reading creepy stories.
I like to do Peril the First, which is to "read four books, any length, that you feel fit (the very broad definitions) of R. I. P. literature." I have been gathering together my list of potentials, and I plan to select my reads from the following list of books:
More Than This, Patrick Ness: This book is my school's all-school read, and it fits the challenge—a suspenseful YA thriller, or at least it appears to be so far.
This House is Haunted, John Boyne: I bought this one my Kindle for last year's R. I. P., I think, but I never read it. Looking forward to it!
Hollow City (Miss Peregrine's Peculiar Children), Ransom Riggs: Another one I've had for a while. I so enjoyed the first one. I have been meaning to finish the second.
The Witch's Daughter, Paula Brackston: This one has been on my radar for a while, and it's also perfect for the Witches & Witchcraft Reading Challenge.
Dracula in Love, Karen Essex: Another one that I've been meaning to read for ages.
When She Woke, Hillary Jordan: I won this one in a Goodreads giveaway, and I never read it. I need to! It looks interesting.
Ghostwalk, Rebecca Stott: I have had this book for a long time, and the cover looks quite creepy. Bonus—Isaac Newton, alchemist.
Jane and the Madness of Lord Byron: Being A Jane Austen Mystery, Stephanie Barron: This one might be good or might be wretched. Jane Austen metafiction is a mixed bag. Still, Byron is in it.
The Ghost Map: The Story of London's Most Terrifying Epidemic–and How It Changed Science, Cities, and the Modern World, Steven Johnson: The lone nonfiction selection fits the bill nicely and comes with excellent recommendations from a history teacher friend of mine.
Aside from More Than This, I'm not sure which of these books I'll choose. They look like a good list.