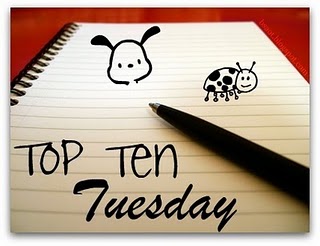 Historical fiction is my favorite genre, and I'm not sure I could pick an adequate top ten. There are so many great books that fit into this genre. You can find my list below with the following caveats: I simply haven't had a chance to read a lot of great historical fiction that's out there yet, so this list is necessarily limited to just those books I have experience with, and also I have decided not to include classics that were set during their own contemporary times but are history now (e.g. Pride and Prejudice or Jane Eyre). Also, these are in no particular order (aside from the order in which they occurred to me) because I couldn't begin to rank them. Finally, I selected these particular books out of all the historical fiction I have read and loved because they so perfectly evoke their time settings that they bring the historical eras in which they are set alive (with historical accuracy) and simply couldn't take place any other time.
Because I read a ton of historical fiction, I need to include some honorable mentions:
The Witch of Blackbird Pond by Elizabeth George Speare: This YA novel is set in Colonial Massachusetts and is a great vehicle for middle schoolers (or even their older siblings and parents) to learn about that time period in history. I can't think of too many books that do as good a job with this era.
The Tea Rose by Jennifer Donnelly: This book is a fun read, but has a few lapses in terms of credibility (at least for this reader). Set in Whitechapel as Jack the Ripper ravages London, this novel is the story of Fiona, daughter of one of the Ripper's victims, who makes her way to New York and builds a tea empire from scratch.
The Commoner by John Burnham Schwartz: This story of a commoner's marriage into the Japanese imperial family makes for a great read, too, though Schwartz takes some liberties to make his character's ending happier than that of the real model for his heroine.
A Plague of Doves by Louise Erdrich: Some of this novel is contemporary, which is one reason I didn't include it above, but it is one of the finest novels I've read and concerns the repercussions of a murder and hate crime that sent ripples through a community for generations.
The Physick Book of Deliverance Dane by Katherine Howe: Also partly set in contemporary times, this novel concerns Connie Goodwin's attempts to learn more about her ancestors' grimoire and secret powers.
The Help by Kathryn Stockett: While this book certainly evoked Mississippi of the 1960's, and I thoroughly enjoyed it, it did not seem as realistic to me as some of the books I included in my top ten.
Madame Tussaud by Michelle Moran: This novel, set during the French Revolution, was an excellent read and shone a spotlight on a historical figure who hasn't perhaps received as much attention as she was due.
The Shadow of the Wind by Carlos Ruiz Zafón: Barcelona's book world during the 1930's and 1940's, though to me, the plot did not have to be set during era or in that place.
The Songcatcher by Sharyn McCrumb: Again, because this novel is set partly in contemporary times, I excluded it from the list above, but the historical fiction parts were my favorite. This novel is the story of how a song learned on the crossing from Scotland to America in the eighteenth century was passed down in a family and survived to the present day.
Emily's Ghost by Denise Giardina: The story of Emily Brontë and one of the better historical fiction novels about the Brontë family.
Pretty much anything by Jude Morgan. Love him. And Syrie James. And Tracy Chevalier. I mean, this was really a hard topic for me to narrow down.
Related posts: