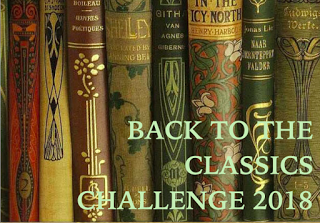 I finished my first book for the Back to the Classics Reading Challenge this week. My husband and I listen to audiobooks when we cook dinner. He hadn't read Jane Austen before. I've actually read all of the complete Jane Austen novels; I haven't read the juvenilia, letters, Lady Susan or Sanditon. I steered him away from Mansfield Park, and Emma is a sort of long one. I actually recommended Pride and Prejudice or Sense and Sensibility, but Steve wanted to try Northanger Abbey because he'd heard that it was a send-up of gothic novels. It is also one of the shorter Austen novels, and it's her earliest novel, though it wasn't published until after she died. I'm counting this novel under the category of favorite classic re-read. I wouldn't say it's my absolute favorite classic novel, but it had been about ten years since I read it, and Jane Austen is one of my favorite authors. I hadn't re-read this one as I had Pride and Prejudice or Sense and Sensibility, so it was probably time. My husband loved Mr. Tilney's sense of humor and shook his head at Catherine's drama. He figured out the Thorpes were horrible right away. A couple of observations: I teach teenagers, and man, teenage girls have not changed at all in 200 years. Re-read any of the parts detailing Catherine and Isabella's intrigues and it could be set today. Actually, this novel might not make for a bad modernization à  la Clueless. In fact, even Catherine's infatuation with gothic stories works if one takes the vampire/werewolf/witch fads under consideration. One of the reasons I love Jane Austen in general and this book, in particular, is Austen's famous wit. Juliet Stevenson read the audiobook, and she was excellent.
I'm also slowly catching up on the Chronological Sherlock Holmes Challenge. We had two snow days this week, so no school, and I read five Sherlock Holmes stories:
"The Adventure of the Norwood Builder": Sherlock Holmes's client John Hector McFarlane is a young lawyer accused of murdering one of his own clients but despite the mounting evidence, Holmes smells a fraud. Rating:
"The Adventure of the Golden Pince-Nez": Inspector Stanley Hopkins seeks Holmes's help to solve the murder of a young secretary Willoughby Smith, in the employ of invalid professor Coram. Rating:
"The Adventure of the Solitary Cyclist": Violet Smith seeks Holmes's help when she notices a man following her as she rides her bicycle to the train station to return home on weekends from her job as a music teacher. While the man never harms her, she is uneasy about him, and she is also uneasy about her employer Mr. Carruthers and his weird friend Mr. Woodley. Rating:
"The Adventure of the Three Students": University lecturer Hilton Soames contacts Holmes for help preventing a scandal. He left an exam he planned to give three students competing for a scholarship on his desk, but his servant left the key in the door, and Soames knows that one of the students has looked at the exam. Rating:
"The Adventure of Black Peter": Peter Carey, a former whaler known as Black Peter, is found gruesomely murdered with a harpoon. While most people agree he probably had it coming, Holmes and Stanley Hopkins team up again to solve the murder. Rating:
Of these five stories, I probably liked "The Adventure of Black Peter" best, if only for the image of Holmes whacking away at a pig carcass with a harpoon to see how much strength it would take to murder someone with said instrument. Spoiler alert: a lot. "The Adventure of the Three Students" is one of those weird stories when Conan Doyle seems to be trying to prove his open-mindedness. For another example, "The Adventure of the Yellow Face" serves well. Of the three students, two seem more likely to cheat than the third mainly because this third is easygoing, clean-cut, and white, while the other two are 1) an Indian, and 2) a panicky, ragey guy that Soames suspects is probably behind it, but he doesn't discount the Indian guy because he's, you know, Indian. It's almost like Conan Doyle is trying to say, "See? I made the bad guy be the clean-cut white guy and not the Indian or the dude with obvious issues." "The Solitary Cyclist" is one of those damsel in distress stories that are fairly yawn-inducing. Give me Irene Adler who can take care of herself. Speaking of damsels in distress, it's a weird thing, but no mention is made of Mary Morstan Watson. She just disappears, and all of a sudden Watson is living with Holmes at Baker Street. I know it's mentioned in one of the stories that she died, but I don't recall reading it. I mean, what gives? "The Norwood Builder" and "The Golden Pince-Nez" were pretty much run-of-the-mill Sherlock Holmes stories. The only reference to any of these stories from the BBC series Sherlock that I caught was from "Black Peter." Holmes shows up covered and blood and carrying a harpoon in "The Hounds of Baskerville."
I am now caught up with the Chronological Sherlock Holmes Challenge through November, so now I'm just a month behind.