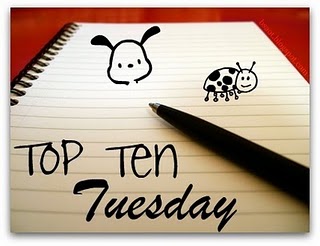 I'm a huge fan of historical fiction. I enjoy learning when I'm reading, and I have always been fascinated by history. My historical fiction reading habits may have formed when I was in middle school and started reading the Sunfire historical romances. But I recognize that not everyone really likes historical fiction. If I could recommend ten books I think might change your mind if you count yourself among those who don't like it, I think it would be the following books:
[amazon_link id="0441020674″ target="_blank" ]Those Across the River[/amazon_link], Christopher Buehlman: If you think you prefer horror or even just creepy stories, this historical fiction novel about werewolves in a small Georgia town might just prompt you to give historical fiction a chance. Just because it's set in the past doesn't mean it's all petticoats. Review.
[amazon_link id="0440423201″ target="_blank" ]Outlander[/amazon_link], Diana Gabaldon: This first book in the Outlander series has a bit of romance and sci-fi as well as some war drama as it begins as World War II ends and moves back in time to just before the second Jacobite Rebellion. Notoriously hard to classify, Diana Gabaldon's books take you squarely back to another time and keep you turning the pages, too. Review.
[amazon_link id="0765356155″ target="_blank" ]Jonathan Strange & Mr. Norrell[/amazon_link], Susanna Clarke: This alternative history fantasy novel set during the Napoleonic Wars pits two great magicians against one another. It's a little bit Jane Austen, a little bit Neil Gaiman, and a little bit J.K. Rowling. Review.
[amazon_link id="034549038X" target="_blank" ]The Dante Club[/amazon_link], Matthew Pearl: This one is part murder mystery set against the backdrop of post-Civil War Boston, where Henry Wadsworth Longfellow is translating the first American edition of Dante's Inferno. He and his fellow poets Oliver Wendell Holmes, James Russell Lowell, John Greenleaf Whittier, and their publisher J. T. Fields, gather to look over Longfellow's latest cantos and offer him feedback. Meanwhile, a series of murders mimicking the punishments in Dante's hell strike fear into the heart of the city, and only the poets know Inferno well enough to commit such crimes… Review.
[amazon_link id="0345419642″ target="_blank" ]The Vampire Lestat[/amazon_link], Anne Rice: Anne Rice will make you interested in eighteenth and nineteenth century Paris and New Orleans. I have always thought Rice wrote better when she was writing about the past.
[amazon_link id="0345521307″ target="_blank" ]The Paris Wife[/amazon_link], Paula McLain: This book will interest folks who normally only go for literary fiction. First, it's about Hemingway's time in Paris and is told from the point of view of Hadley Richardson, his first wife. Second, it's quite literary and beautifully written itself. Review.
[amazon_link id="1565125606″ target="_blank" ]Water for Elephants[/amazon_link], Sara Gruen: Set in a Depression-era circus, this book has a little of everything: action, forbidden romance, and running away to the circus! Review.
[amazon_link id="0684801469″ target="_blank" ]A Farewell to Arms[/amazon_link], Ernest Hemingway: Given that this book was written in the 1920's about WWI, I guess it qualifies as historical fiction, although it does feel like cheating to include it because I wouldn't include a book set in the 1990's on this list. Ah well. At any rate, it's a great novel, well written, with some of the most beautiful passages in American literature. And it's Hemingway writing on war. Review.
[amazon_link id="B000FC10KC" target="_blank" ]Ahab's Wife[/amazon_link], Sena Jeter Naslund: Not only does this one give you the perspective of Captain Ahab's wife Una, but you also learn quite a bit about nineteenth century New England. The book is gorgeous. One of my favorites of all time. Review.
[amazon_link id="0061577073″ target="_blank" ]The Poisonwood Bible[/amazon_link], Barbara Kingsolver: This book is for those who love literary fiction, symbolism, and allegory and think it can't be found in historical fiction. This is a beautiful book, another one of my favorites, and so important in terms thinking about Africa and America's own role in colonial history. Review.