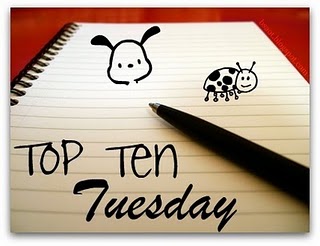 This is an interesting topic. I'll try to do it justice.
[amazon_link id="0743273567″ target="_blank" ]The Great Gatsby[/amazon_link], F. Scott Fitzgerald: "Uninvited" by Alanis Morissette. This is perhaps kind of an odd choice, given the song has no connection to the 1920's or jazz, but if you listen to the lyrics, they essentially describe how Daisy seems to feel about Gatsby.

[amazon_link id="1456364278″ target="_blank" ]Heart of Darkness[/amazon_link], Joseph Conrad: "Head Like a Hole" by NIN. OK, this song is really aggressive and may not jump out at you when you think of Heart of Darkness, but again, the lyrics seem to speak to the book's themes. My favorite is comparing Kurtz's last words, "The horror!" to the last line of the song, "You know what you are." Isn't that the horror Kurtz was talking about? The horror of realizing what he was? Of course that line is whispered on the recording, and I didn't hear it in this video. But still.

[amazon_link id="0385737645″ target="_blank" ]Revolution[/amazon_link], Jennifer Donnelly: "Shine on You Crazy Diamond" by Pink Floyd. I chose this song mainly because it is a motif in the story itself. The song becomes important to Andi both for its message and music.
http://www.youtube.com/watch?v=TQYaVb4px7U
[amazon_link id="1594744769″ target="_blank" ]Miss Peregrine's Home for Peculiar Children[/amazon_link], Ransom Riggs: "People are Strange" by The Doors. I am not a huge fan of The Doors. I liked them a lot more when I was in high school. However, I can't deny there are some strange people in Riggs's book.

[amazon_link id="1400031702″ target="_blank" ]The Secret History[/amazon_link], Donna Tartt: "The Killing Moon" by Echo and the Bunnymen. Any list like this is better for an Echo and the Bunnymen song. Plus I think the sort of gothic nature of the song (and the fact that it was recently featured in a commercial with vampires) goes with the book's atmosphere. "Fate… up against your will" describes Richard Papen's complicated feelings about Bunny's murder. Plus, "killing."

[amazon_link id="0143105434″ target="_blank" ]Wuthering Heights[/amazon_link], Emily Brontë: "Wuthering Heights" by Kate Bush. Kind of a no-brainer. This video is nearly as weird as Catherine Earnshaw.

[amazon_link id="0743482751″ target="_blank" ]Much Ado About Nothing[/amazon_link], William Shakespeare: "Sigh No More" by Mumford & Sons. Maybe because the song just alludes to a song in the play and quotes pieces of the play, but it fits anyway.

[amazon_link id="0393320979″ target="_blank" ]Beowulf[/amazon_link], Anonymous: "The Immigrant Song" by Led Zeppelin. Because VIKINGS! That's why.
http://www.youtube.com/watch?v=nBmueYJ0VhA
[amazon_link id="0345409647″ target="_blank" ]Interview with the Vampire[/amazon_link], Anne Rice: "Moon Over Bourbon Street" by Sting. Yes, he actually was inspired to write the song because of Rice's book. Fitting.

[amazon_link id="0316769177″ target="_blank" ]The Catcher in the Rye[/amazon_link], J. D. Salinger: "How Soon is Now?" by The Smiths. The song's narrator is an angry, misunderstood loner, just like Holden Caulfield. And honestly, I think what Holden really does want is to be loved. Just like everybody else does.