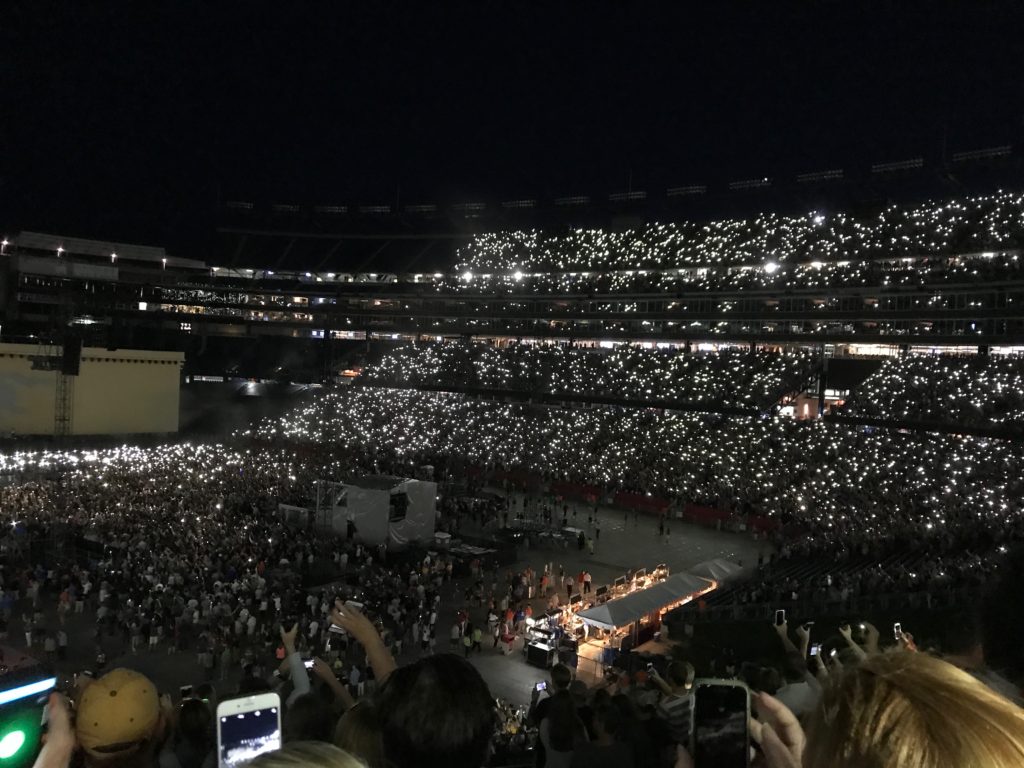 Last Sunday, I realized a dream I've had for a long time and went to a U2 concert with my family. They are touring in honor of the 30th anniversary of The Joshua Tree, which is a really important album for me. I can well remember watching MTV when that album had been released and seeing the now iconic video for "With or Without You."
But even further back, I can recall being wowed by their video for "Sunday Bloody Sunday," as it was shot at Red Rocks. Growing up in the Denver area, I had been to Red Rocks, though not for a concert, and it impressed me to see a music video shot in a place I had actually been.
In the late 1990's, when I was finishing up my bachelor's degree after taking three years off when my then husband was in the Coast Guard, I listened to The Joshua Tree on repeat in the car. I think it was at that time that "Red Hill Mining Town," a song U2 never played live until this tour, became my favorite. I have a deep affection for that song, still, even if I recognize on a more objective level that it's not even what I would consider their best song. It just means something to me.
I thought hearing "Red Hill Mining Town" would be the moment that did me in during the concert, but it wasn't. It was actually when U2 played "Beautiful Day," another favorite of mine, and the Edge brought out that old Gibson Explorer of his. He has had that guitar a very long time. He describes the moment when he bought it in New York in the late 1970's in the movie It Might Get Loud.
Knowing how long he has had it and what it means and thinking of the history of that guitar just reduced me to to tears when he started playing the opening notes of "Beautiful Day." Such an amazing song and instrument, too. I have never cried at a concert before.
Speaking of It Might Get Loud, it was that movie that turned me into a Jack White fan. I admit to not having listened to his music much until that film, and I was already a big fan of both Jimmy Page and the Edge. It bothers me that a lot of people argue Edge doesn't deserve a place in that film. If you ask me, it's his presence in the film that makes it because he is so different from the other two. He doesn't bother with the affectations that Jack White puts on (the fake child version of himself that he coaches along). He brings a lot of humility and self-deprecation to the storytelling in that film that the other two don't necessarily bring. There is an honesty to the story he tells that is certainly missing from Jack White's story, and is obscured under so many layers in Jimmy Page's story—Jimmy Page always seems to keep at a distance when he's being interviewed. The only time he really seems more or less open is when he is talking with the Edge and Jack White. The film is one of my favorites, actually.
Of course, U2 is a political band, and they always have been. People complaining about their politics obviously haven't been listening to them or it wouldn't still be a contentious issue. They've been openly political since at least War—you could even argue since Boy—so I'm not sure where these people have been. What I really loved about the concert I attended is that the band didn't shy away from being political, but they were respectful and positive in the way they presented their views. It was clear to me that the band has a great deal of love and respect for America, and I'll go on the record as saying they get too much crap for their earnestness and their politics. I suppose some people think it's insincere, and others think they shouldn't hold political opinions. I disagree on both counts, but even if they are not sincere, they've still done a lot of good in the world.
Another thing that struck me was just how good they are. Bono's voice is great, and it's clear he takes good care of it. If I had to hazard a guess, I'd say he avoids smoking, drinking, and bad vocal habits. The Edge, Adam Clayton, and Larry Mullen, Jr. are all still playing excellent music as well. We saw them at Gillette Stadium in Foxboro, which is where the New England Patriots play, and it's a huge stadium, if you've never seen it. We weren't at the very top, but we were fairly far away. The sound was good, even though everyone in the stadium was singing along. It was a little hard to hear what Bono said sometimes, which other people who were at the concert also complained about. I think the sound system probably wasn't perfect, but it was good enough.
It was really special to hear one of my favorite albums played in its entirety. Of course they didn't play every song I wanted to hear. If they had, we might still be at the concert. I have a lot of favorites. But they played "Sunday Bloody Sunday," "New Year's Day," "Bad," (which is always awesome in concert—I actually own two live versions of that song already), "Pride (In the Name of Love)," "Miss Sarajevo" (interesting choice, but it made a lot sense in the context of the show), "Elevation," "Vertigo," "Ultra Violet (Light My Way)" (with a moving tribute to women), "One," and a new one, "The Little Things that Give You Away," which will be on Songs of Experience when it's released, in addition to the entire Joshua Tree album and "Beautiful Day," which I had previously mentioned. Not a bad setlist at all. I gather that they are doing "A Sort of Homecoming" at some of the shows on this tour.
I mentioned owning two live versions of "Bad." The one from the Wide Awake in America EP is transcendent. I actually have quite a lot (comparatively speaking) of live U2 music, and I also frequently watch their live performances on YouTube. They are a rare band in that so much of their music sounds as good if not better live than on a recording. Frankly, a lot of great musicians are studio musicians, and there is nothing wrong with that, but their live performances disappoint. Eric Clapton, for instance, is kind of boring live (at least he was when I saw him). On the other hand, Tom Petty is awesome, and so are Counting Crows. Both of those groups surprised me with how good they were live. I would say this concert was the best one I attended, though I haven't gone to nearly as many as I would have liked to have gone to. I hope I will be able to see them perform live again. It was an incredible experience, and all the more so because my family enjoyed it so much, too.
Several of the concert-goers put the show up on YouTube. It's nice to have this reminder of the concert I attended. I don't think U2 are terribly fussy about people putting their shows up. There are some really old live clips online that have been on YouTube for years. I made a playlist of some of the video others took at the concert. I only had my iPhone with me, and I wanted to concentrate on enjoying the concert instead of capturing it. Sound and video quality varies, and I put several videos of the same song(s) in the playlist in an attempt to capture the show from multiple points of view.