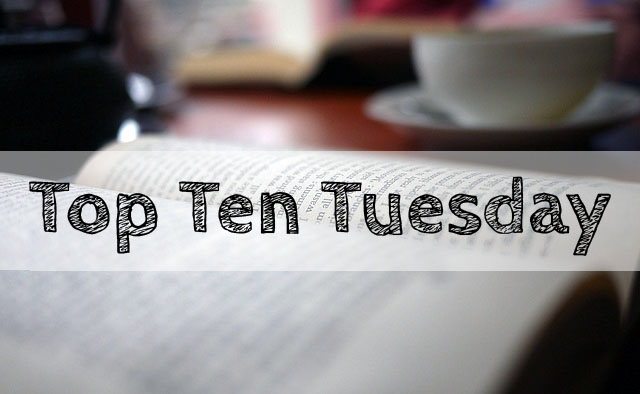 I have to admit that I love Twitter, but I use it more professionally—sharing links and resources with others and collecting the links and resources other share. Twitter is a great resource for teachers. I do love the way the Eleventh Doctor mutters "Twitter" whenever it comes up, though. I wonder if Twelve will like Twitter?
At any rate, this week's Top Ten Tuesday concerns which authors or characters I'd like to see on Twitter. I'm going to do a 50/50 split of authors and characters, just to mix it up.
Authors
In no particular order, I wish I could see the following writers on Twitter:
Oscar Wilde: His acerbic wit and penchant for the best bon mots would make him perfect for Twitter. He would be hilarious, catty, and fun.
William Shakespeare: I wonder what the Bard could do with 140 characters. It would be interesting to see what topics he would choose to discuss, too.
Emily Dickinson: Another one for interesting turns of phrase, but I suspect her account would be sort of like those friends who post "Vaguebook" status updates, and I doubt she would reply, retweet, or follow anyone.
J.K. Rowling: She actually does have a Twitter account, but she never tweets. I wish she would. Wouldn't it be fun if she answered fan questions and engaged with readers the way other writers like Neil Gaiman, Joe Hill, and John Green do?
F. Scott Fitzgerald: What a hell of a Twitter feed that would be to read, whether he was tweeting beautiful lines or dishing about the crazy shenanigans he and Zelda were up to.
Characters
In no particular order, I wish I could see the following characters on Twitter:
Elizabeth Bennet of [amazon_link id="0486284735″ target="_blank" ]Pride and Prejudice[/amazon_link]: She'd be the most fun on Twitter. I don't think she'd be as taciturn as Mr. Darcy. I would love to see what sorts of comments she would make.
Puck: The impish sprite from [amazon_link id="0743477545″ target="_blank" ]A Midsummer Night's Dream[/amazon_link] would probably have some fairly interesting commentary about the nature of humanity: "Lord, what fools these mortals be!"
Bilbo Baggins of [amazon_link id="0618002219″ target="_blank" ]The Hobbit: or There and Back Again[/amazon_link]: I have so much affection for this guy. He's funny. Wouldn't it be great to see him complain about the Sackville-Bagginses? Even better, wouldn't it be cool to read his exchanges with @GandalftheGrey?
Albus Dumbledore: Another one for wise axioms perfect for Twitter. Plus, wouldn't it be fun to read his exchanges with @GandalftheGrey? (See what I did there?)
Naturally @GandalftheGrey would have some interesting things to say.
Who would you like to see take to Twitter?