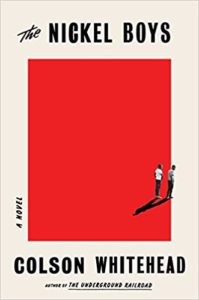 The Nickel Boys
by
Colson Whitehead
Published by
Doubleday Books
on July 16, 2019
Genres:
Historical Fiction
Pages:
214
Format:
Hardcover
Source:
Library
Buy on Amazon
Goodreads

In this bravura follow-up to the Pulitzer Prize, and National Book Award-winning #1 New York Times bestseller The Underground Railroad, Colson Whitehead brilliantly dramatizes another strand of American history through the story of two boys sentenced to a hellish reform school in Jim Crow-era Florida.

As the Civil Rights movement begins to reach the black enclave of Frenchtown in segregated Tallahassee, Elwood Curtis takes the words of Dr. Martin Luther King to heart: He is "as good as anyone." Abandoned by his parents, but kept on the straight and narrow by his grandmother, Elwood is about to enroll in the local black college. But for a black boy in the Jim Crow South of the early 1960s, one innocent mistake is enough to destroy the future. Elwood is sentenced to a juvenile reformatory called the Nickel Academy, whose mission statement says it provides "physical, intellectual and moral training" so the delinquent boys in their charge can become "honorable and honest men." In reality, the Nickel Academy is a grotesque chamber of horrors where the sadistic staff beats and sexually abuses the students, corrupt officials and locals steal food and supplies, and any boy who resists is likely to disappear "out back." Stunned to find himself in such a vicious environment, Elwood tries to hold onto Dr. King's ringing assertion "Throw us in jail and we will still love you." His friend Turner thinks Elwood is worse than naive, that the world is crooked, and that the only way to survive is to scheme and avoid trouble. The tension between Elwood's ideals and Turner's skepticism leads to a decision whose repercussions will echo down the decades. Formed in the crucible of the evils Jim Crow wrought, the boys' fates will be determined by what they endured at the Nickel Academy. Based on the real story of a reform school in Florida that operated for one hundred and eleven years and warped the lives of thousands of children, The Nickel Boys is a devastating, driven narrative that showcases a great American novelist writing at the height of his powers.
As soon as I heard about the impending publication of The Nickel Boys, it went on my to-read list. Whitehead's last novel, The Underground Railroad, is one of the best books I've read in the last few years. One of the things I appreciated most about The Nickel Boys is that it amplified the stories of the boys who attended the Dozier School for Boys, also known as the Florida School for Boys, and their stories should not be lost. Their stories are horrific, but we owe it to ourselves not to look away—to face what we have done as Americans. Plenty of people knew what was happening in this prison, for calling it a school is inappropriate. Many of the stories out of Dozier are coming from white men who suffered indescribable horrors at this school, but Whitehead's novel shares the stories of their Black counterparts, who suffered the same atrocities with the additional indignities of Jim Crow, segregation, and racism.
While this novel shines a light on the abuse endured by the boys at Dozier, renamed Nickel in this book, this book is really about a young man, Elwood Curtis, hanging on to his dignity as a human being, attempting to maintain his feelings of self-worth, and passing that regard on to his friend Turner, who thinks people are basically irredeemable (where has he had the opportunity to learn otherwise?) and that the best way to make it through is to keep your head down, and scheme for what you can get. The tragic thing is that places like Nickel have crushed young men like Elwood, and they are doing it as I write this, too. America needs to come to terms with the school-to-prison pipeline and the injustice in sentencing that disproportionately punishes Black and Brown men. My personal opinion is that it's time, past time, to talk about reparations. Like Ta-Nehisi Coates says, we allow the "how" of reparations stop us from considering the "why," and books like The Nickel Boys provide plenty of evidence for why. 
Ben Montgomery and Waveny Ann Moore ask in their expose on Dozier, "What is the cost to society of such a place?" As the authors argue, "boys went in damaged and came out destroyed." A former psychologist at Dozier said, "Anytime you've got human beings together, you're going to have people abusing each other." But we cannot dismiss what happened like that.
Further Reading: