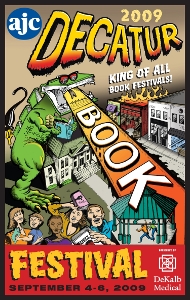 We all had a good time today at the Decatur Book Festival. I had to grab a nap when we got home so I could recover. I am a little sad—one of my main reasons for going, seeing Diana Gabaldon and possibly getting a book signed, didn't turn out to be feasible when I saw the line. If I had been alone or with like-minded friends, I would have waited, but I was with family, none of whom shared my interest in seeing Ms. Gabaldon, so I filed that away for another time. I have seen her once before, after all.
We roamed all over the place, seeing all the different tents. We didn't actually buy that much. The atmosphere was great, and as an English teacher, I was ecstatic that so many folks were gathered to celebrate books and reading. We mostly looked, walked around, and had fun. I think everyone except Steve found a book in the Little Shop of Stories. Sarah got Maximum Ride: The Angel Experiment by James Patterson. Dylan got a copy of Brown Bear, Brown Bear, What Do You See? by Bill Martin, Jr. (it's different from the one he already has because it has a CD). Maggie got some Junie B. Jones books and a replacement for the lost (and admittedly battered) copy of Harry Potter and the Prisoner of Azkaban. I got a copy of Finn by John Clinch. It's a book I've been curious about for some time.
You can look at my pictures here, if you have a Facebook. I don't think you have to be my friend to see them, but if you want to be my friend, just send a request. I'm not sure if you can see them if you don't have a Facebook.