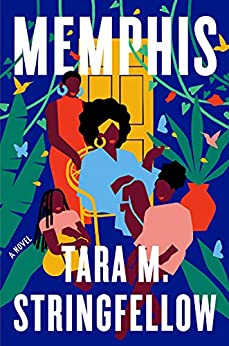 Memphis
by
Tara M. Stringfellow
Published by
The Dial Press
on April 5, 2022
Genres:
Historical Fiction
Pages:
272
Format:
E-Book
,
eBook
Source:
Library
Buy on Amazon
Goodreads

A spellbinding debut novel tracing three generations of a Southern Black family and one daughter's discovery that she has the power to change her family's legacy.

In the summer of 1995, ten-year-old Joan, her mother, and her younger sister flee her father's violence, seeking refuge at her mother's ancestral home in Memphis. Half a century ago, Joan's grandfather built this majestic house in the historic Black neighborhood of Douglass—only to be lynched days after becoming the first Black detective in Memphis. This wasn't the first time violence altered the course of Joan's family's trajectory, and she knows it won't be the last. Longing to become an artist, Joan pours her rage and grief into sketching portraits of the women of North Memphis—including their enigmatic neighbor Miss Dawn, who seems to know something about curses.

Unfolding over seventy years through a chorus of voices, Memphis weaves back and forth in time to show how the past and future are forever intertwined. It is only when Joan comes to see herself as a continuation of a long matrilineal tradition--and the women in her family as her guides to healing—that she understands that her life does not have to be defined by vengeance. That the sole weapon she needs is her paintbrush.

Inspired by the author's own family history, Memphis—the Black fairy tale she always wanted to read—explores the complexity of what we pass down, not only in our families, but in our country: police brutality and justice, powerlessness and freedom, fate and forgiveness, doubt and faith, sacrifice and love.
This was an enjoyable read. The writing was lyrical in places, and the acknowledgments section was possibly one of the most fun I've ever read. I was expecting this story to be more of an ode to the city of Memphis than it was, but I wasn't disappointed in the multigenerational family saga I got instead. I only wish there had been more about Hazel'story. I found her to be a compelling character. The characters are realistic and well-drawn. This book should make a pretty good movie should anyone decide to turn it into one.